What Is Intuitive Singing? 
Intuitive singing makes it possible to free yourself from the pressure and anxiety of singing as a performance or trying to make yourself sound a certain way. It's a path that lets you express yourself naturally — instinctually — with a calm mind, a joyous, open heart and loving intention.  
It is a holistic approach that helps you align your own vibration to that of which you allow to be expressed through you. This is done with a clear intention of being the conduit for this vibration with your body, heart, mind, and spirit.
Furthermore, intuitive singing allows sound vibration to be conveyed through you rather than from you — as an intentional and mindful gift to both yourself and others.
What if you could sing anywhere, trusting your inner guidance, without worrying about how you sound or what to sing? 
Imagine wanting to sing about a waterfall. The traditional approach to singing would most likely involve writing or learning a song that speaks about the waterfall and the story around it. You would be focused on learning the song, performing it with good technique, with the hope that anyone listening would enjoy it.
As an intuitive singer, you would instead tap into your insight and your creativity; interpreting the energy of the waterfall. Honouring it with your natural voice. You could be inspired to express your song in any language, including "gibberish" (non-lexical vocables). Your attention would be placed on offering a grounded, authentic song. One that could be defined as a cross between vocal improvisation (scat singing), devotional singing, and sound healing.  
In this short video clip, you can hear a song with intuitive singing inspired by some of the qualities of the element of Water: flow, creativity, nurturing.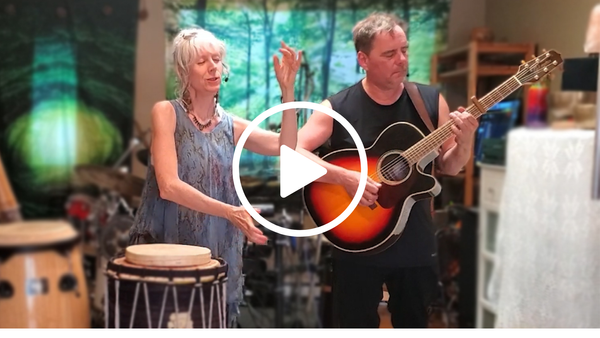 Do You Need to Have Good Singing Technique to Be an Intuitive Singer? 
There is one vital key to a gratifying experience for both the intuitive singer and the listener: the singer's ability to access a state of deep connection with their inner guidance and the energies around. 
The techniques utilized in intuitive singing are closer to those used for musical improvisation, as well as sound and movement meditation, mantra singing, energy rebalancing, shamanic sound healing, and clairvoyance. Intuitive singing arises from a focused, benevolent intent, a curiosity for inner knowledge, and more importantly, trust that the vibration of your voice is supported by your heart intelligence, in service to the highest good of everyone. 
Through our voice we can express emotion and communicate from our heart in a way unlike any other physical instrument. From grounded awareness in a meditative state, we can invite the sacred to communicate naturally and easily with and through us. This practice results in a somewhat mystical experience, rather than a "well-interpreted" song. The feeling of expressing our true, soul song with an open voice is deeply exhilarating and freeing! 
SCHEDULE YOUR FREE INTRO SESSION TODAY
Who Can Be an Intuitive Singer?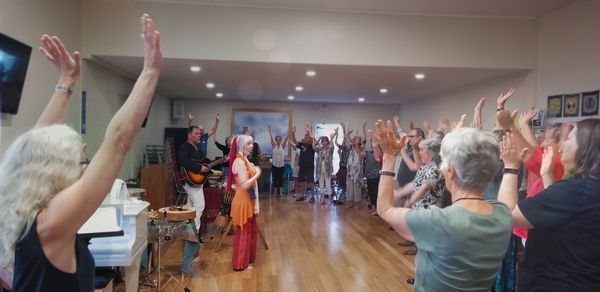 "Everyone CAN sing; we just don't all sound the same!" 
A wonderful thing about intuitive singing is that everyone can experience the benefits. It works whether you're a total beginner, professional singer, or somewhere in between. 
In my workshops and coaching practice, I support people of all walks of life who aspire to sing, and free their voice from tightness which they often describe as "blocks". They are: 
Individuals and groups seeking balance in their body, heart, mind, and spirit
 
Wellness practitioners — from sound healers, yoga teachers and breathwork instructors to massage therapists, hypnotherapists, and the like, who wish to begin incorporating intuitive singing into their work
 
Singers, speakers, actors, content creators, influencers who wish to express their truth more freely
SIGN-UP FOR AN INTRODUCTORY, INTUITIVE SINGING SESSION
How Can You Find and Free Your Voice? 
Trauma, illness, and stress are often part of our reality. Especially in our world today. This results in the body storing up all kinds of tension. The emotional blockages that develop can make it difficult to express — even access — your authentic voice. Intuitive singing techniques help you break through those blockages. With tailored tips and techniques to help open to your own true voice and spiritual connection. Opening up this connection within yourself and to others has a ripple effect. You often notice more joy, light, and fun in your life and all your relationships. 
Do you feel uncomfortable with your own voice? Is that discomfort while singing getting in the way of your ability to tap into your intuition and creativity? You can start by feeling your way into the discomfort and giving a voice to the tension that has built in your physical body. Try the following sound & energy healing exercise for some relief and a stronger mind-body connection:
Exercise 1: Releasing tension with "AH" sigh
Exercice 2: Grounding with the mantra "Here, Now"

These, and many other types of sound healing and intuitive singing exercises, can help you become more comfortable using your voice to channel healing energy. Opening up and releasing any blocks that you may be carrying makes improvisation and creativity fun and joyful, and increases your confidence. 
How wonderful to be able to use the uniquely powerful instrument of your own voice to bring balance and a sense of bliss? If you feel inspired to learn more about intuitive singing, don't hesitate to contact me to schedule your free, introductory session.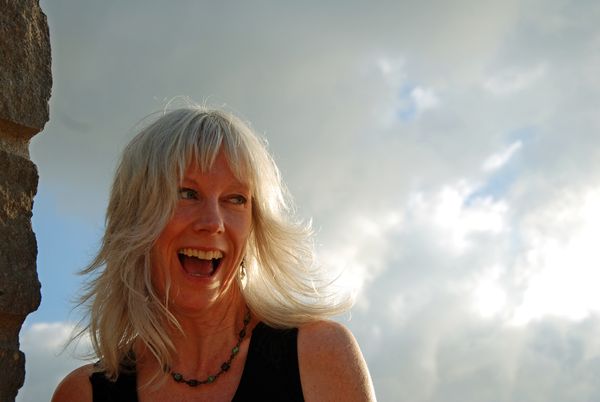 MJ Vermette, Intuitive Singing Coach
About the author  
MJ Vermette is a Musician, Sound Healing Artist, Intuitive Singing Coach, and Certified Bodymind & Energy Therapy practitioner with Sacred Fire Music. 
She has over 20 years' experience in supporting people recovering from trauma, addiction, abuse, emotional, mental, and physical challenges. As a skilled facilitator, vocalist, hand drummer and holistic health practitioner, she has been offering Sound & Energy Healing, Intuitive Singing and Creative Drumming Workshops since 2004. This work blends her therapeutic expertise with her artistic personality; helping people radiate peace, health, and positive force.