SACRED FIRE - MYSTICAL WORLDBEAT MUSIC CONCERTS & WORKSHOPS
"

Absolutely one of the most outstanding things I have ever experienced!  It's something you'll never forget!"
— BBC Radio 2's Johnnie Walker
Genre: Mystical / Worldbeat / Tribal New Age / Lyrical / Shamanic / Yoga & Meditation / Sound & Energy Healing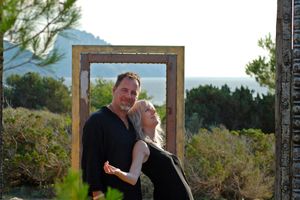 BIO
MJ Vermette & Dean Richards are Music Medicine Artists who travel the globe as Sacred Fire. The duo is committed to celebrating community and increasing peace, happiness and harmony. Their Mystical Worldbeat Concerts, Workshops, Sound Healing Journeys and Ceremonies bring a sense of grounding, connection and deep joy.
Sacred Fire is acclaimed for their powerful drumming and heart-opening, mesmerizing vocals. Their mindful music merges operatic, Celtic, progressive rock & jazzy, new age arrangements with a twist of worldwide traditional influences. They use musical expression as a harmonizing tool, to touch deep within the soul, boost vitality and build pathways between humans and their ancestral, inner wisdom. 
Based on Vancouver Island, British-Columbia (Canada), surrounded by the beauty of ocean, forest & mountains, Sacred Fire's work is infused with the energy of the natural elements. 
Since 2011, the duo has performed & toured in Germany, France, UK, USA, Canada, the Carribbean and Mexico. The duo has produced three albums and numerous music videos. They have worked alongside Dr. Deepak Chopra, Marianne Williamson, davidji and many others, and collaborated with prominent musicians who have also recorded with Pink Floyd, Paul McCartney, Krishna Das, Talk Talk, Robbie Robertson, Eurythmics and more.
"MJ and Dean are gifted musicians who create a powerful, healing, & transformational experience for us to connect to our deepest source."  
~ DAVIDJI, author, teacher & radio host
The Story
MJ and Dean met on an outdoor festival stage in Squamish (BC) in 2010, where MJ had just moved from Montreal (QC). MJ was leading an audience-participation percussion improvisation, when Dean sneaked on a drum kit in the back. Together, they spontaneously offered a commanding drumming performance, without MJ seeing who was behind her… 
Since then, the duo released 3 albums and performed in France, Germany, England, Mexico, Canada and the United States, in large-scale wellness events such as The Chopra Center retreats in California & Canada, led by the prominent Deepak Chopra and featuring prominent speakers such as Marianne Williamson, davidji Gabrielle Bernstein and more. 
Discography
In 2011, Sacred Fire released Rising, an a cappella chants & drums EP that pays tribute to the abundance of Life with fervent authenticity and tang.  
In 2014, the duo wrote and produced the music for Journey to Infinity, a double album with Music, Mantras & Meditations. The Ayurvedic Opera  was written by stress management guru and leading meditation expert davidji, and is considered a transcendental piece of art that breaks out of the meditative new age matrix to lift us into a boundless world of profound wisdom.
In 2015, Sacred Fire released their latest album, Continuum ~ Music for Peace & Healing (the remixed songs from Journey to Infinity). Inspired by the 5 elements of Space, Air, Fire, Water and Earth, Continuum merges soothing, lyrical vocals with Worldbeat & progressive rock influences  - a soul stirring musical journey through time and space.
Continuum features prominent guest musicians such as Gilad Atzmon (Pink Floyd, Paul McCartney, Sinéad O'Connor) John Turnbull (Bob Geldof, Eurythmics, Ian Dury & The Blockheads, World Party, Talk Talk) and Hans Christian (Robbie Robertson, Krishna Das) and has been mastered by Ronan Chris Murphy (who worked with King Crimson, Robert Fripp and Tony Levin).  
Sacred Fire is presently preparing their upcoming album, which will include recordings from high vibration spaces around the world and children voices. MJ and Dean are also producing music for film & tv.
 
Worldwide Recordings, Interactive Concerts & Workshops

Members:
Marie Josée (MJ) Vermette (vocals, percussion)
Dean Richards (drums, guitars, vocals, keys, percussion)

Genre: Worldbeat, Mindful, Progressive New Age, Shamanic, Yoga & Meditation, Sound & Music Healing, Lyrical, Devotional

Location: Vancouver Island, BC, Canada
0:00/3:53

0:00/6:14

0:00/4:03

0:00/3:54

0:00/4:32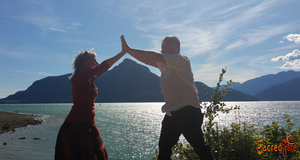 A FEW PAST PERFORMANCES & WORKSHOPS