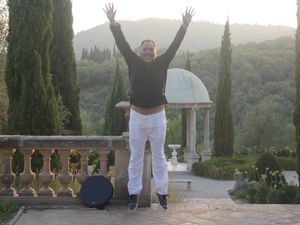 THEY LOVE SACRED FIRE!
"Absolutely one of the most outstanding things I have ever experienced. Just incredible. It's something you'll never forget… and I certainly won't!"
- Johnnie Walker, BCC2 Radio, UK

"You were an A-M-A-Z-I-N-G team and created an awesome experience for our guests!!! Thank YOU!!!!!!"

"MJ and Dean are gifted musicians who create a powerful, healing, & transformational experience for us to connect to our deepest source."
- 
davidji
, Meditation Teacher, Author and Radio Host - Hayhouse Radio

"What shines out from you both is the passion for what you do. There is such a powerful yet compassionate energy pulsing out from you and your instruments!"
- Beryl Thomas, Co-Owner, Wired For Success.TV

"Your music was not only a wonderful experience for everybody who heard it but had also a very powerful effect on people's emotions! It certainly contributed a lot to the atmosphere of the whole event and without any doubt helped increase PEACE and HAPPINESS in the universe!"
" Sacred Fire is pure music medicine!! This Conscious duo, creates such healing sounds & rhythms that go Soul deep. Mj & Dean, thank you for your Conscious work and for sharing your Divine gifts with the world. Blessings & Gratitude always!! "
- Monica Nacimiento, Holistic Health Practitioner - Beyond Balance, Squamish, BC
"The music of Sacred Fire is both earthly and etherial at the same time. It moves your soul and touches your heart. I truly believe that the music is channelled through MJ- she is but a vehicle for these powerful sounds to come through. Thank you Dean and MJ for making such a wonderful contribution to the world of music and sound healing."
- Lynn Fishman, RN, Montreal, Qc

"Marie and Dean of SacredFire shared a wonderful evening here in this beautiful space with Johnny Walker, myself and students of the Sanctuary - beautiful esoteric memorable & uplifting tranformation of the Mind Body and Soul... with much gratitude. Love and Light ." 
- Suzanne Thompson, Director-Teacher-Therapist, Fontmell Magna Yoga Sanctuary, Dorset UK

"We are playing your CD constantly and just about everyone who listens to it is completely mesmerised by it and consequently we have already sold all of your CD's."
- Clare and Brian, Owners, 
Pilgrim's
, Glastonbury
"Thank you for an amazing night. Deepening, holding, softening, receiving, releasing, connecting, healing...... What an amazing gifts you both bring to the world. So glad I was able to experience the magic that you weave."
- Shenoah Taylor, Shaman and teacher, 
Shamanic Voices
, London
"The effect on my energy body created a calm and beautiful feeling, which opened my heart centre. I loved that by closing my eyes, my other senses became so much more acute. The sounds around me allowed me to go within and feel the music as an emollient for my soul."
- Heidi Nielsen, Owner, 
From Nature to Nurture Aromatherapy
, Paradise Valley, BC
"Performances during meditation and yoga last week at the Chopra Ctr. by @chantsanddrums were AMAZING. The music will touch your soul."
- Reg Cran, CEO, TMI, Vancouver & California 
"Sacredfire is a very talented and enlightened music band. They know how to heal people with music that's why when you listen to their songs it touches directly your heart and makes you feel good and at peace."
-Virginie Lancetti, Executive Producer-co-founder at Touché -
Nausicart NGO
, Antibes, France
"When I heard you perform, your music went straight through me into my primal being and it's deep connection to the earth. I was so moved!"
- Jessica Pauley, Massage Therapist, CMT, LMT, Wisconsin
"Sacred Fire is the embodiment of MJ and Dean...Their natural and amazing talents and healing intuition expressed through their music connects with your soul, touches your heart and miraculously fills in little tiny gaps where you may have somehow lost your own connection. Nature is their venue...their inspiration and their home...They and their music thankfully are a gift to us. Please listen and share. The world needs this!"

  "Beautiful, it brought tears to eyes, bumps all over my body and my HEART swelled with Love, Namaste"
- Candice Lanes, Healer & Social Worker, Campbell River
 
"Eternally Grateful Marie Josée Vermette and Dean Richards for creating and sharing thier magic in their CD, "Rising." My heart keeps pace with the rhythms, and the vocals fill my soul. Listening to "Rising" has become an intgral part of my daily routine."
- Elizabeth Love, USA

"MJ and Dean, thank you for the wonderful, healing, rhythmic vibrations that you release into the Universe. It connects us all in the most wondrous ways!"
- Anonymous

"Sacredfiremusic is really something you have to experience to fully appreciate. It felt very individually tailored, even though I was part of a group. They are skilled musicians and facilitators providing safe space that is beautifully paced."
- Casey Mitchell, Vancouver Island, BC
"The experience at Summerhill was incredible. Such beautiful music and voice to listen to. Both powerful and gentle, healing and connecting. MJ also invited the gathering to participate on drums and percussion instruments. The joy and happiness this event created was visible on the faces of all. I purchased the Continuum album and have listened to it many many times already."
- Jean Githens, Kelowna, BC
"What a beautiful experience! Such a creative and colourful ritual of sounds and guiding words to acknowledge the culmination of light that is the Summer Solstice. Thank you MJ and Dean!"
- Jason Bednar, Kelowna, BC
"One of the most powerful and beautiful shamanic healing sound teams it has ever been my privilege to know."
- Yvonne Owens, Director of Art History and Critical Studies - Victoria College of Art, Victoria, BC
"Your music brings such peace and healing to my everyday. My favorite music in the world is created by your hands & voices. You are truly gifted souls."
- Miranda Sheppard, Toronto, Ontario
"Dean and MJ are more than a gift to the world. Both are incredibly talented individuals and in aligning their talents, their gifts and healing offerings they are extraordinarily engaging as presenters and group facilitators. Their passion expressed is transformative as they bring harmony and connection on many levels. I feel very privileged to have had the experiences I have had with them."
- Carey Selk-Rodger, Bowen Island, BC
"Your music takes me away to places beyond the beyond. Soothing and energizing ~ miraculous!!!!"
- Lyn Zalk, Greenlawn, NY
"Your music takes me out of any negative energy and instantly resets my core focus. Fining you via Davidji has been a Life saving gift!!!! ... a sacred resonance that allows many, many people to feel that which you are expressing. How wonderful that your music so speaks to people from such an elemental level that it transcends other forms of communication and directly speaks to the higher consciousness... allows me to drift into places of centeredness, dreaming and connection with who I really am."
- Julia, Guelph, Ontario
"La joie qui émane de votre spectacle s'est prolongée en moi durant plusieurs jours. Ensuite, quand j'écoute un de vos CD, cette même gaieté renaît en moi. Vous êtes des diffuseurs de Joie, d'Amour et d'intériorité. MERCI à vous et revenez nous voir au Québec."
- Yolande Renault, Artiste peintre, Québec
"MJ has the most amazing voice. She can sing anything in all sorts of ranges. Dean rocks it on the drums, guitar and bass. Part of the performance was upbeat with all the drumming and the other part of the performance was so soothing and relaxing. I could have slept, but I didn't want to. They basically took the audience on a journey of multiple sounds and tones. It was therapeutic and enjoyable. A very pleasantly unique experience. Thanks Dean and MJ!" 
- Laura Sturgeon, Health Care Aide, Author, Port Alberni, B.C.