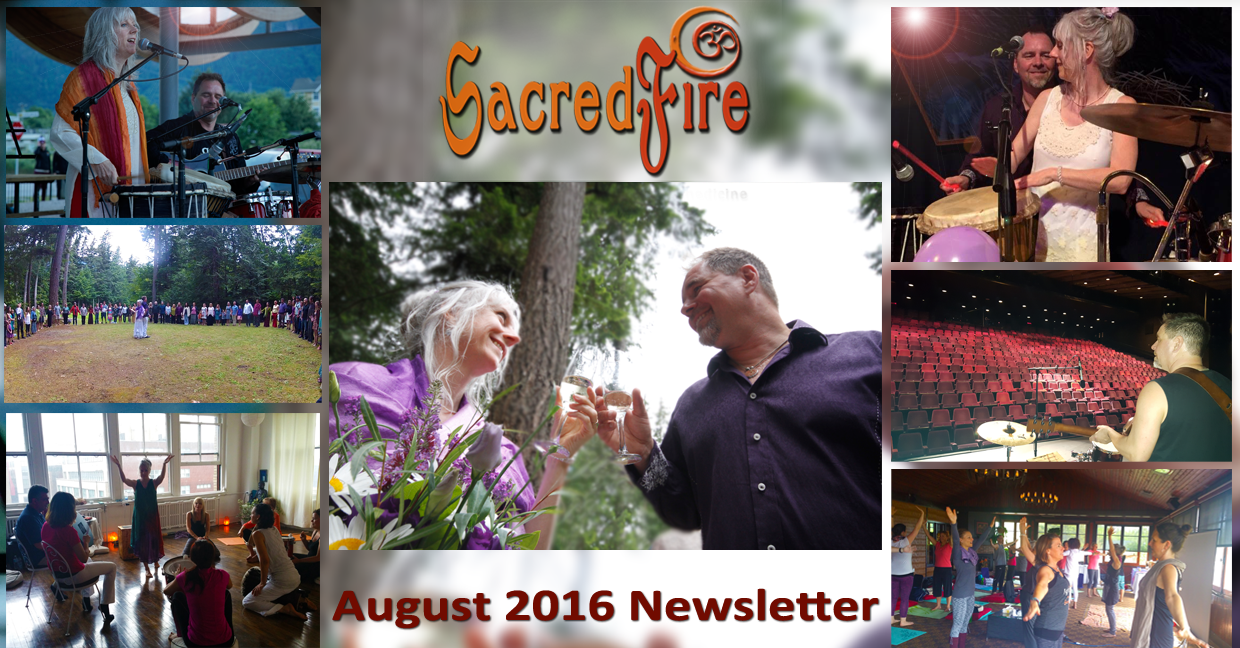 Dear Friends, 
Summer is shining bright, and we have some big news to share. Yes, we encountered a bear in the forest a few days ago (funny details below) ~ but that's not the focus here. You probably have guessed (or read about it) by now... we got married! 
The first half of 2016 has kept us busy with studio work (we are building a tv and film music library), 4 weeks concerts & workshops in California & Quebec, and a fun participation at the West Coast Yoga Festival. Those of you whofollow us on Facebook will have seen a few pictures and video snippets. We had a blast! 
Around solstice, we spontaneously decided to plan our wedding, which we manifested on July 10th in our home town of Brackendale (Squamish, BC, Canada). 
Watch a musical clip of our wedding 
Much, much gratitude to our friends and community who celebrated with us, and to all that have already sent us your best wishes from around the globe. In our hearts, we value kindness, trust, and commitment to develop and maintain healthy relationships and it is our desire that, by showing the world the quality of our love, we can contribute to a more caring, peaceful world. 
This month, we invite you to celebrate LOVE with us. Let's honor each other's sacred fire; and the divine that resides in All That Is. Let's manifest this by stimulating our inner fire, to better "digest" our emotions, take good care of ourselves and others around us, and by acting in ways that will help everyone grow their goodness. 
Here is our gift to you! Until August 31st, get a FREE DOWNLOAD of our song Burning Brightly (remix), from our album Continuum (the music remix from "Journey to Infinity" by davidji & SacredFire). This track will stimulate your "emotional fire". Please feel free to share it with those you love! 
Peace and Harmony, 
MJ & Dean 
www.sacredfiremusic.com 

READ THE FULL NEWSLETTER HERE