MINDFUL, INTENTIONAL DRUMMING WORKSHOPS & LESSONS
"

This was amazing!! Thank you MJ and Dean. Such an invigoratingly yet soothing experience!"
— Joy (Vancouver Island)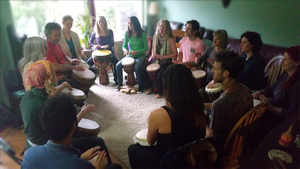 GROUP DRUMMING
In a warm, friendly and non judgmental atmosphere, you: 
* Relax and let go of your internal dialogue; eliminate tension  
* Learn rhythmic, drumming and improvisation basic techniques 
* Experience drumming meditations (in some workshops)
* Are encouraged to express yourself with creative impulse  
* Acknowledge your possibilities and limits, and are lead to transcend them  
* Share, listen, dare  
* Have fun!
Science demonstrates that drumming increases the development of various regions of the brain, including the motor and auditory cortexes. Traditionally, hand drumming has been used in many cultures, to help create a conduit to the Divine. Group drumming allows us to experience worship with our bodies as well as our minds, and provides us with demonstrated biological and psycho-social benefits.

While facilitating Mindful Drumming sessions, our unique approach uses the drums as communication and personal expression tools. We are passionate about empowering individuals by guiding them to open up to their highest good.
"

This was REALLY GOOD! MJ is a calm and confident guide. Highly recommend!"
— Narissa Young, Musician, Sound & Vibroacoustic Therapist
INDIVIDUAL DRUMMING LESSONS
"

Just after 2 lessons I'm feeling more confident and more capable behind the drums. Haven't tested that in a jam setting yet, but I know I have more tools. That feels good! 💚💥🥁 gracias!!"
— Gerry B. (Vancouver Island, Canada)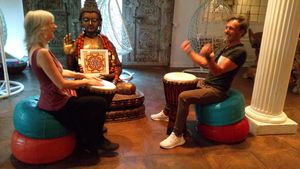 Develop your technical hand drumming & rhythmic improvisation skills, using the Djembe drum, frame drums and other percussion instruments.
Relax and let go of internal dialogue. Express yourself with creative impulse. Raise your energy levels. Learn and experience Drumming Meditation to help you attain a state of calm, focus, and clarity.
These individual coaching sessions are tailored to your specific needs, and include: 
Tailored rhythmic experiences to release stress, improve focus, raise your energy and create a sense of peace and harmony
Drumming exercises to practice coordination, speed, endurance, independence and control (with djembe drums)
Techniques to create your own practice exercises to improve what you need most 
Improvisation techniques 
Fun, relaxing, rhythmic games 
Exercises to improve your confidence and your stamina