Please note!
***THIS EVENT HAS BEEN POSTPONED***
to Sunday, October 22, 2023 
 INTENTIONAL DRUMMING playshop
(Initially planned for SUNDAY, SEPTEMBER 17, 2023)
2:00 - 4:00 P.M.
LOCATION: LADYSMITH (VANCOUVER ISLAND, BC, CANADA)
(Exact location provided after registration)
IF YOU WISH TO JOIN US ON OCTOBER 22, PLEASE FILL OUT THIS REGISTRATION FORM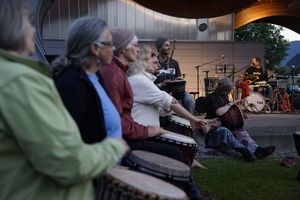 EVENT DESCRIPTION
Drum.  Energize.  Feel empowered.  Ignite your Sacred Fire! 
Come create community! Explore rhythmic improvisation and circle drumming, using your creativity and your intuition.
Intentional drumming is easy, fun, relaxing & empowering! 
OUTLINE
In a relaxed and joyful atmosphere, you will experience: 
🪘 Simple body and drumming warm-ups to help cleanse, strengthen and circulate life energy in the body 
🪘 Rhythm games as well as spontaneous group improvisations 
🪘 Easy, colorful, liberating rituals, using drums and percussions 
🪘 A drum circle portion in the second part of the workshop
BRING 
🪘Your djembe drum + any other drum/percussion instrument 
🪘Limited quantity of djembe and conga drums available - please reserve with MJ in advance on the registration form 
SUGGESTED CONTRIBUTION
$25 (one person) (Register for you and a friend: $40) 
*Note: If this amount is too much for you at this time, please let me know – we will make arrangements.